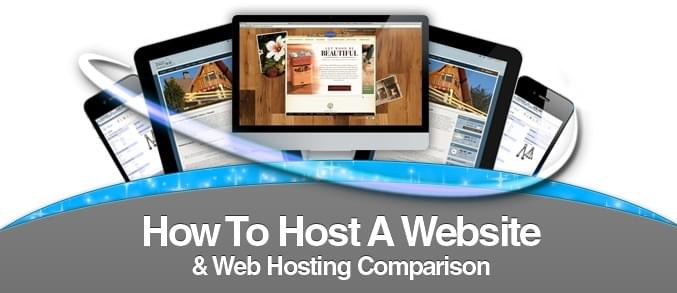 Web Hosting Comparison
There are two main ways to host a web site. Host it yourself from home, or let a professional web hosting company handle the hosting for you. Some people say that one "advantage" of hosting your own web site on your own server, from home is that you will be able to host content that some web hosting services might not permit. However, if that is the case, the content you may be considering to host, may be illegal, and that can lead to bad things in general if the hosting is tracked back to your ISP and of course, your home. While it's not common to have your content refused by a web hosting provider, it can happen and it does happen, so it is best to contact your potential web hosting provider and ask them if your content will be allowed. Since most hosts will host any content that is legal in their country, or does not cause excessive use or damage to their systems, there is not much real benefit to hosting from home, except for educational or developmental purposes before the site becomes ready for prime-time. However, these days, for the hassle involved with setting up servers, special software, and a secure system, a good shared hosting package can be purchased for just a few dollars per month.
The main disadvantage of hosting your own web site from home is revealed by a simple web hosting comparison; when you look at the prices and time involvement of self-hosting versus traditional web hosting through a web hosting provider, you will notice that the true cost of hosting a web site yourself is usually a lot higher if you account for the time involved. At GlowHost we offer affordable prices and allow you to host all content which is legal in the USA.
How To Host A web site
Learning how to host a web site from home is an excellent way to learn about how systems like Apache Web Server, PHP and MySQL work, however it is not a requirement. The main things you will need when it comes to hosting a web site are that you will buy a domain name, get hosting services for that domain, and then begin the process of driving traffic to your site. You should consider having a broadband Internet connection that is speedy and reliable so that you can administer your web site more quickly in comparison to a slower connection like dial-up (do they still have that?). Once you've taken care of these details, you'll be ready to operate on your own and to run your web sites for fun or profit.
The main advantage of using a web hosting service provider like GlowHost is that all the difficult configurations and specialized software and hardware is already provided for you as part of any hosting package. Security patches are applied regularly and firewalls which block the bad guys are constantly reconfigured to block the most common forms of attack on your web site. This can save you time and money and offer better overall uptime in the long run especially when your personal hardware may break, become infected with a worm or virus, or perform irregularly. GlowHost has "cold-spare" and "hot spare" hosting hardware on standby (just in case!), and the hardware and software we use has been well-tested and specially selected to deliver a long shelf-life and stability of service.
Host Your Own web site
There are different web hosting services available, depending on what you want. If you host your own web site, you'll only need to buy a domain name and hosting, you can take care of the rest yourself. If you want to make money in web hosting, you may consider reseller hosting, which will give you the power to flip your web space for profit by selling it to other web site owners, or even to clients who you do web design for. Another option for the most high-end hosting available is a managed dedicated server, which can costs hundreds of dollars per month or more, but is typically much faster than shared hosting and mush more reliable in regards to overall uptime. As you can see, there are multiple options, and each one has it pros and cons; deciding what you want out of your online experience is the key to choosing the right service for your personal needs.