cPanel Web Host Reseller Plans
Make money or simply consolidate your own accounts and save money with our cPanel reseller hosting packages.
Make money reselling web hosting with cPanel and WHM control panels.
Reseller hosting packages are excellent for people who want full control over their own brand of web site hosting. Brand your control panel with your logo and use the included, fully brandable WHMCS software for billing and customer management. Order a white-label cPanel reseller account from GlowHost now!
Benefits of being a GlowHost Reseller
You create the hosting packages you wish to sell.
You decide what prices to sell your hosting plans at.
You keep 100% of the profit!
Fully managed. No need for security updates, uptime monitoring, patches, or software installs. This is all handled for you at no additional charge…And There's More! Your brandable cPanel control panels includes Softaculous script installer for all of your users. Web Host Manager (WHM) is also included with no "per domain" surcharges and no limit on the number of domain accounts you can create.
Consolidate your hosting accounts.
You may simply want to consolidate accounts. You do not have to resell anything if you have a reseller hosting plan. Many people use reseller hosting packages to consolidate web sites that are spread out across multiple hosting providers or multiple servers.
  cPanel and WHM Demos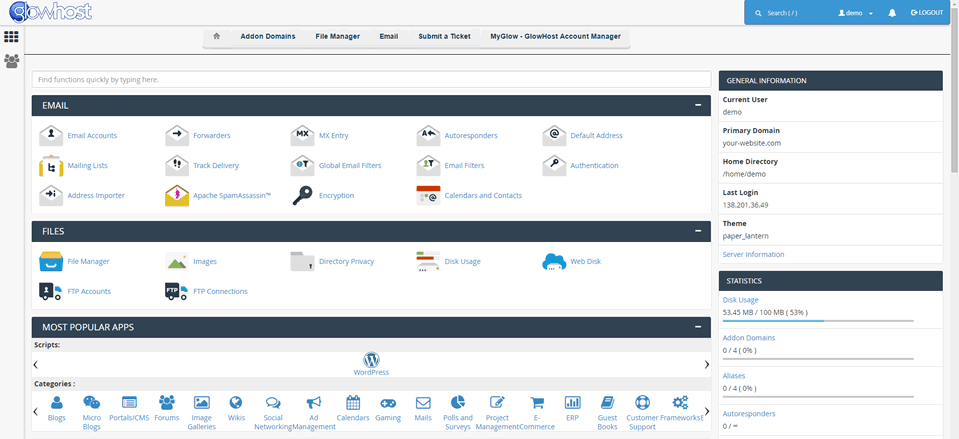 Compare The Best Reseller Hosting Packages Now!
Compare
Branded cPanel Example: Click Here
username: reseller | password: password
(Your customer's web site control panel)

(Your master panel to create client cPanels)

Included FREE in all GlowHost Reseller Plans:

FREE WHMCS Billing Software (Certain Plans)
FREE Unlimited Technical Support
FREE Web Hosting Site Templates
FREE Turn-Key Web Hosting Site
FREE Branded Name Servers & Domain

Reseller hosting plans are right for:

Large sites requiring lots of disk space
High traffic sites requiring lots of bandwidth
Individual webmasters who have many web sites
Web design companies
Companies that have multiple web sites
ISPs/WISPs/VISPs who want to offer web hosting or email services
FREE WHMCS Billing Software
FREE Turn-Key Web Hosting Site
FREE Web Hosting Site Templates
If you prefer to develop your web site content from "almost" scratch, we offer PSD format web site templates fully layered and sliced, in 3 different colors. Kick-start your site with ready-made graphics at your disposal. 
Order Now
View Samples
FREE Branded Nameservers
Peace of mind.
With a reseller web hosting account, you will have the same piece of mind that our managed dedicated server accounts enjoy, such as full management, automated and manual security updates, kernel patches, and general server security features. You will be able to create your own hosting packages, create individual cPanel hosting accounts, and much more all included for a low monthly fee.

Compare The Best Reseller Hosting Packages Now!
Compare
Anyone who wants full control over their web sites can utilize a reseller hosting plan. No more support tickets to the hosting company every time you want to change or add features to your account. Web design companies can now have a value-added service and keep all aspects of their client sites "in house," privately branded, and fully managed. ORDER NOW!