Global CDN Service from GlowHost
Does your website data call for high availability and performance? Do you want to serve your visitors from more than one geographical location? GlowHost has you covered. With GlowHost's Global CDN, your data can be served from more than 70 points of presence worldwide. Ready to supercharge your website? Get more CDN Info
What is a Content Delivery Network (CDN) and how does it work?
A Content Delivery Network (CDN) is a network of servers in multiple datacenter locations around the world that delivers web content to the end user. The content is served to the user based on their geographic locality and the closest CDN server to them. The closer the CDN server is to the end user, the faster the web content is loaded. This makes a CDN very effective at delivering content for high availability and high traffic websites with global reach, while bringing load times down for the end user. Additionally, since they are geographically dispersed, CDNs provide a layer of protection from surges in traffic since not all traffic will be hitting the same server.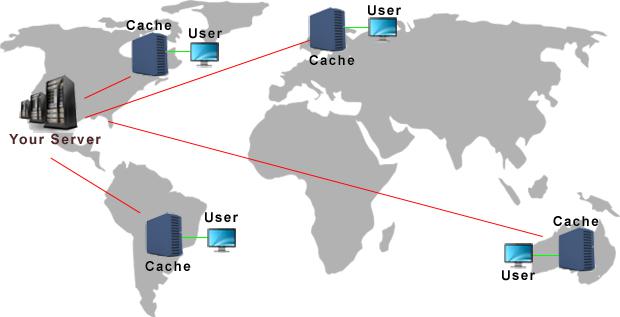 Each server in the CDN copies the web content from the origin website. The content is then synchronized around the CDN's different datacenter locations. When a user makes a request to view web content that is part of a CDN, the origin server will redirect the request to a CDN server that is closest to the end user and deliver the cached content. The CDN will stay up to date by synchronizing any content that has not been previously cached, and have it ready to deliver.
Why do YOU need GlowHost's CDN Service?
Your content readily available from multiple locations available around the globe
Faster loading time and increased visitor satisfaction
Gives your content high availability
An added bonus of bandwidth spike protection
Lower operating costs than having a physical presence in multiple locations